Weighted blankets
Weighted blankets
Do you sometimes sleep restlessly or do you often have trouble falling asleep?
Do you want more peace and less stress in your life?
Are you tired and frustrated by the constant waking up of your child(ren) at night?
Do you suffer from over-stimulation and do you need a calming feeling of security?
Then the SensoLife weighted blanket is the perfect solution for you. Read more about how our weighted blankets work!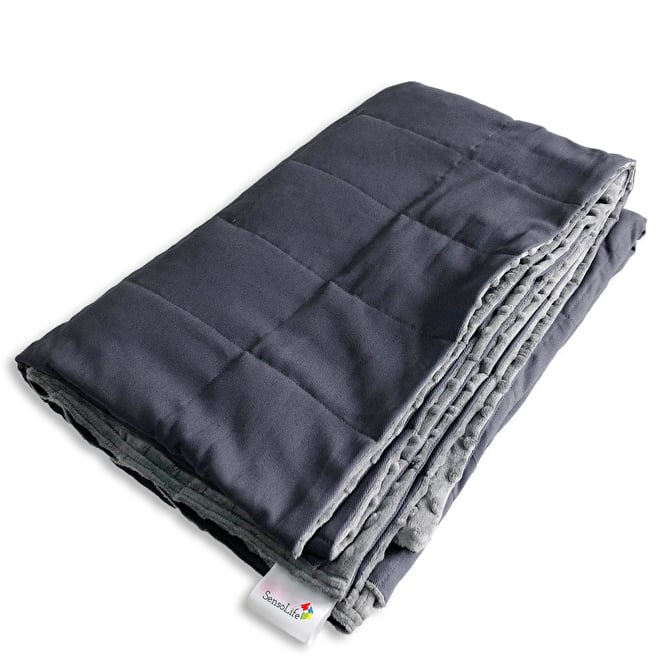 Our high quality cotton therapeutic weighted blankets (Oeko-Tex® certificate) are functional, aesthetic and perfectly suited to their basic therapy task for children and adults with stimulation-processing problems.

How does an weighted blanket work?
The weight of a weighted blanket creates deep pressure and has a relaxing effect. The blanket gives a feeling of safety and physical relaxation and helps the user to fall asleep quicker and calmer. SensoLife weighted blankets help with stress, anxiety and sleep disorders, as well as developmental disorders such as ADHD, Down's syndrome, Asperger syndrome, autism as well as burn-out, bulimia and anorexia.
To buy a weighted blanket
Weighted blankets are often used in clinics performing SI therapy, but are also very suitable for home use. Our blankets are made according to body weight or based on recommendations from your therapist. If you have not received a recommendation from a therapist, we stick to a standard 10% - 25% of your own body weight.
Tip: SensoLife weighted blankets can also be a beautiful bed decoration or a great gift idea!
A weighted blanket for your child
Are you looking for a weightedblanket for yourself or your child? At SensoLife you can buy weighted blankets that support your child in processing stimuli and reducing stress after a full day of activities. Because it is important that the weighted blanket fits the height, weight and size of the bed, it is possible to have a custom-made weighted blanket made. You can also choose from dozens of different materials, motifs and colours. It is even possible to design your own blanket! When ordering you choose the desired pattern, the desired size, filling and the blanket weight. Compose a blanket that fits perfectly in your interior or that your child can enjoy to the fullest.
If there is a need for different sizes or other wishes, please check our frequently asked questions or feel free to contact us via the contact form.
SensoLife also sells all kinds of other aids to support sensory integration therapies, such as weighted sleeping bags, weighted pillows, weighted vests and other products in addition to weighted blankets.